Blog
2016 October 2:
Error:
The group show "Error" opened on September 26, at Himalayan gallery in Songzhuang, Beijing. There were about 30 artists including 5 from abroad. The opening was lively and well attended. I liked the artwork displayed. My Poliyart "Couple" was exhibited. This is the first time many of my Songzhuang friends got to see my larger Poliyarts. After the show there was a barbecue with a festive atmosphere. Here are some photos.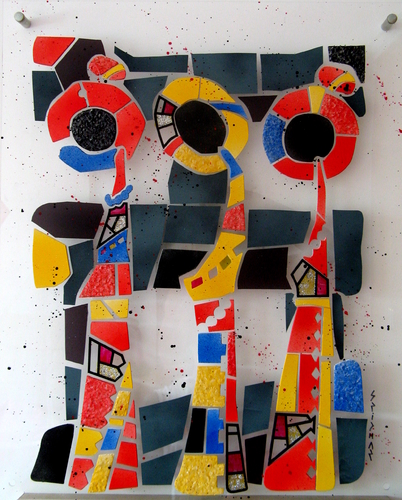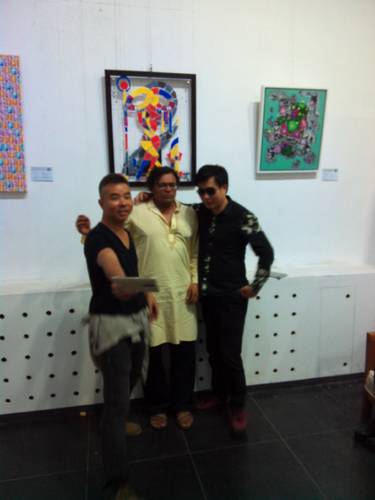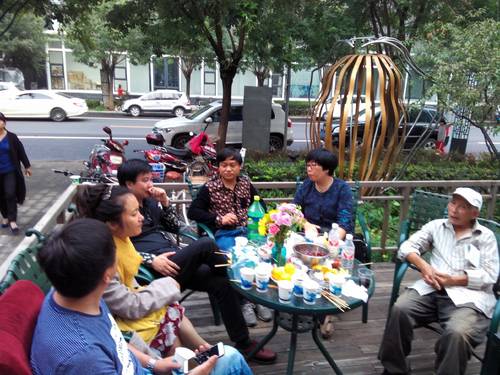 China Art Industry Expo:
This expo opened on September 29th. I got to know about my acceptance to the show only about a week before the opening. Had to do some major running around printing, sending contracts and getting ready for the show. The show was well organized and will end on October 5th. Attendance has been good and I have got some good feedback. Keeping my fingers crossed for sales. Photos here.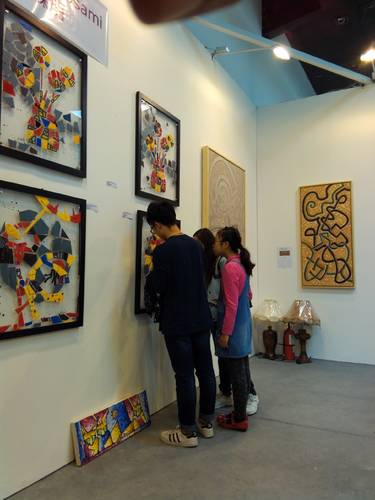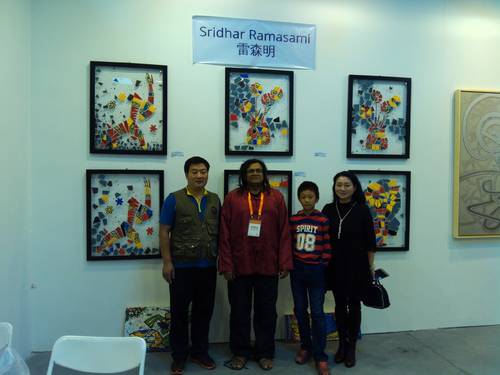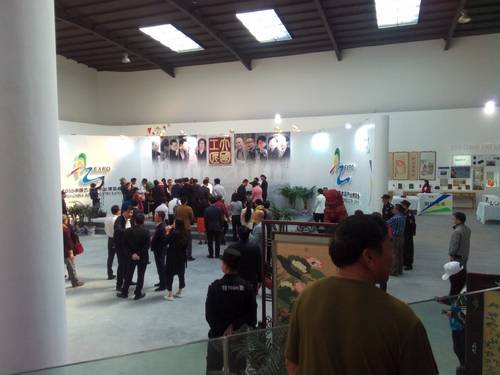 Paintings on wine bottles:
One of the Chinese wine companies wanted paintings on their ceramic bottles. This was a commission project where I painted 12 bottles. The company also bought one of my paintings. It was a fun project. Below are some photos of the wine bottles.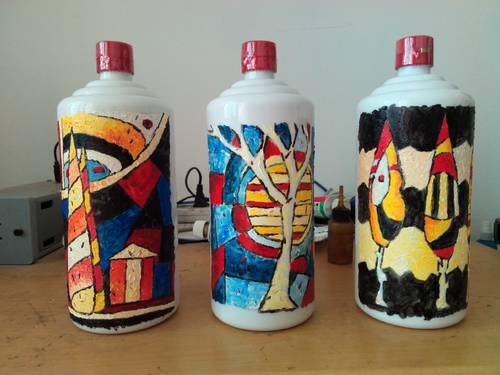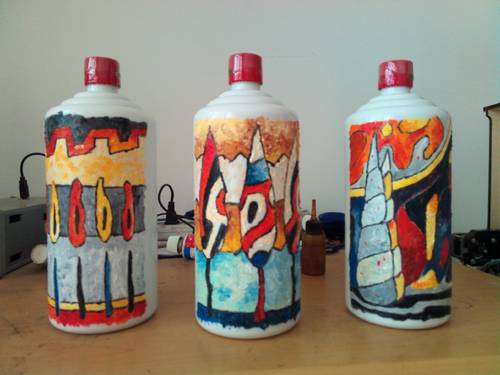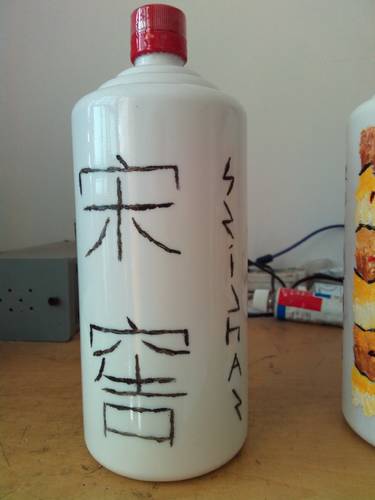 Upcoming shows:
5+5:
This show with 5 foreign and 5 Chinese artists will open on October 7. Will be dropping off work this morning. This promises to be a good show and will be held in YeXue Art Space in Songzhuang, Beijing. Mr. YeXue is a famous artist and a good friend of mine, so I am happy to be participating in this show. Here is the invitation for the show.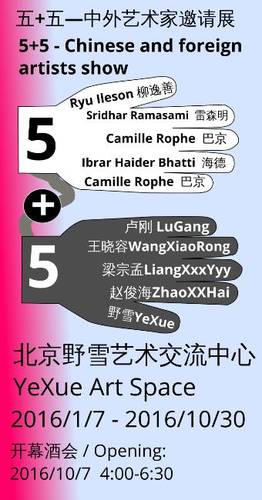 Gather Together:
This show will also be in Songzhuang and will open around the end of October. There will be contemporary art on oil, Chinese water color and poetry reading.
A busy fall. Please leave your comments below.
---
Comment:

WOW! I love the new direction you are going with your work Sridhar. Fresh and more refined, yet sill has your signature mark of excellence on it. Good job. You fellow artist from Artexpo New York, Karen
Karen Kohtz



Hi Karen, Wow, hearing from you after such a long time. Thanks for your compliments. Will send you an email soon.
Sridhar



祝贺您老朋友,心想事成。
赵四


2016 Sep 13: International shows in Xian and Beijing
Shuozhou, Shanxi:
Shuozhou city is a small city in Shanxi province. However, the organizers did a very job with the exhibition. There were about 250 works of artwork, collected from different parts of China. The venue was a set of traditional chinese hutongs (buildings with a courtyard in the middle). The opening was well attended with about 500 people. There were 3 international artists – one from Romania, one from South Korea and me. It was also widely covered by the local media. Here are some photos.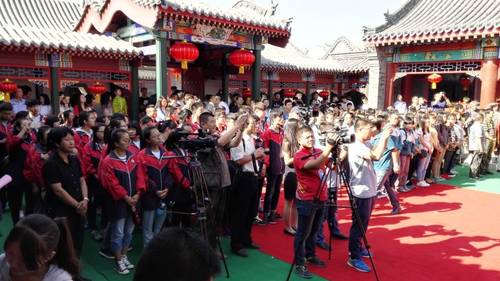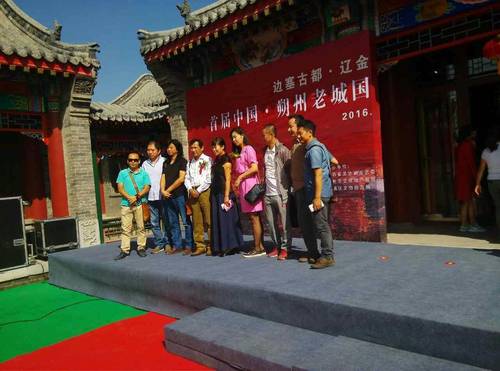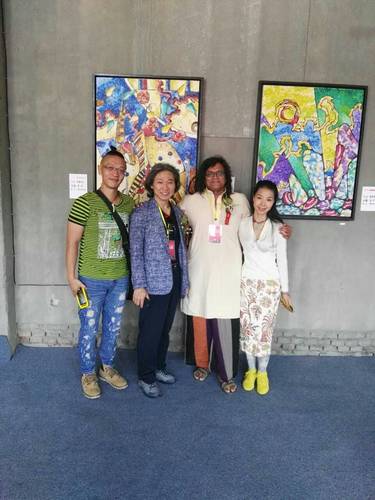 Xian, Shaanxi:
The Silk Route exhibition in Xi'an opened on 8th. Xi'an is considered the cultural capital of western China. I could not attend, as I had a conflicting art event at the Uruguay embassy in Beijing. My ex-student and friend Melissa, helped take photos of the event. There were artists from about 90 countries and the artwork ranged from representational to contemporary. Here are some photos.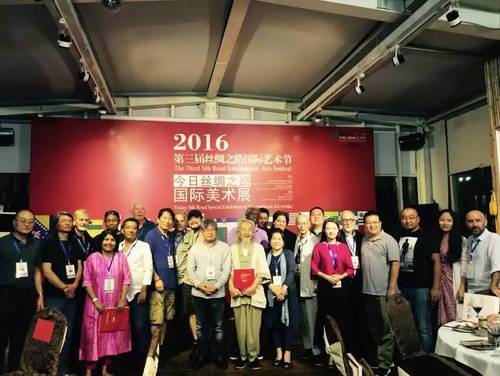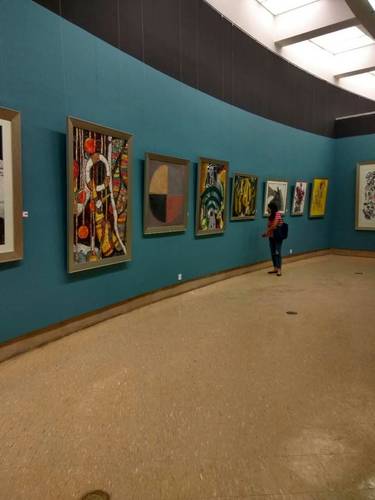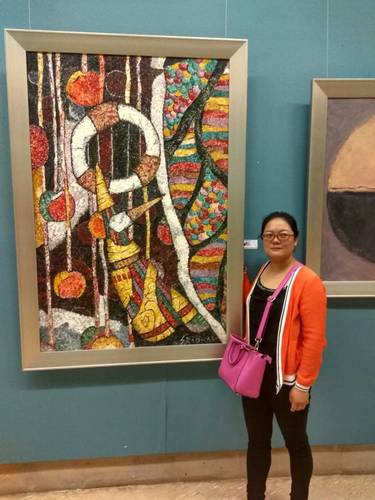 Future events:
There is one exhibition coming up in Songzhuang, Beijing. Its an international show with 5 Chinese and 5 foreign artists, including me. Its being held at the YeXue art center. Mr. Yexue is an old friend. I met him within 2 weeks of coming to Songzhuang. During the meeting he had said that he wanted to organize an exhibition with international artists. Its been almost 6 years since he said that, but here it is! The opening will be on October 7. Artists from China, India, USA, South Korea, Pakistan and France will be participating. Here is the invitation for the show.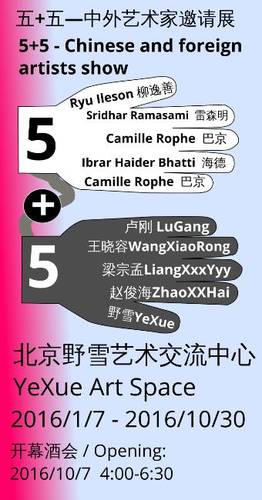 Another show titled "Error" will be held at the Himalayan gallery on September 26th, in Songzhuang. There will be about 30 artists including me. Here is the invitation for the show.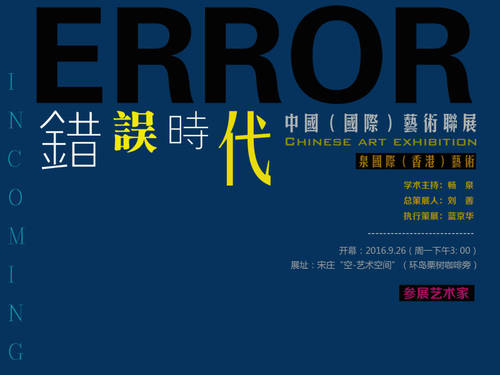 Exhibition at the Uruguay embassy:
There was also an exhibition at the Uruguay embassy in Beijing. About 30 artists showed their work. It was an interesting show and I learnt quite a bit about the culture there. Also met the ambassador and took a photo. This is my first meeting with an ambassador. Also met the curator and manager of the show. They are interesing and nice folks :-). Here are some photos.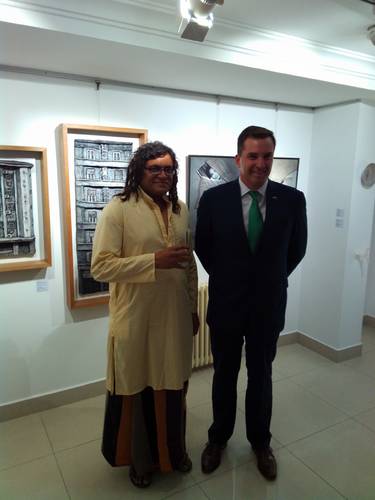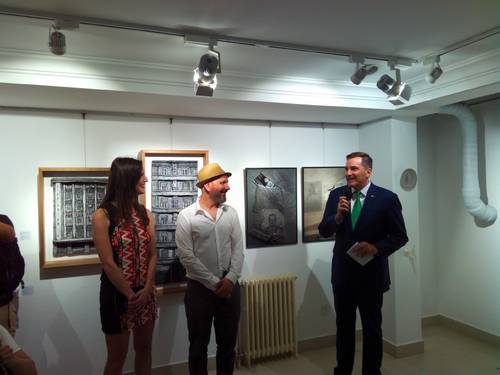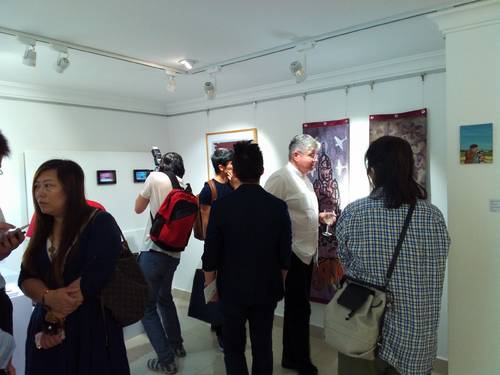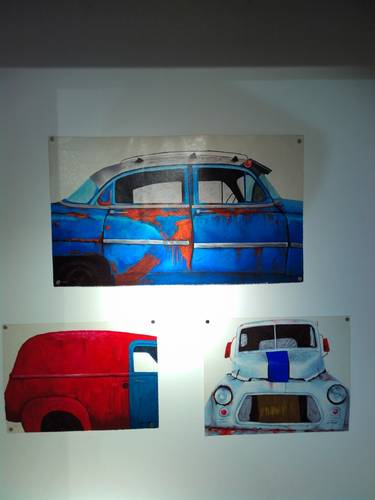 Please leave your comments below.
---
Comment:

Really like your latest work (big size). Wish you all the very best!
Tanushree Chatterjee Mishra



Thank you for sharing your life and art in China. I commend you for your pursuits in your life and your art. Keep it up.
Phil Toy



Hi Tanushree, Thank you very much. I also like the larger sizes :-)
Sridhar



Hi Phil, Thanks for stopping by. Maybe, you can introduce yourself next time :-)
Sridhar



非常棒的展览!我喜欢,有机会我也想参加。谢谢您告知我这些展览信息。
Judy Zheng



你好Judy,谢谢你了。最近我觉得在北京展览的机会多。
Sridhar



雷森明,你真棒,加油!
邢学英



你好邢学英, 谢谢你了 :-)
雷森明



How about your pictures in xi'an after the exhibition?
Melissa



Hi Melissa, I just got the paintings back from the Xian show. Thanks for asking :-)
Sridhar


Aug 28 2016: Shows and artwork
The show in WangFuJing went well. The organizers SongYang gallery know how to put on a show. There were musicians, theater folks, TV folks, animation companies and of course artists. I met a lot of interesting people from different walks of life. This was also my first exhibition of the larger sized Polyart. Here are some photos.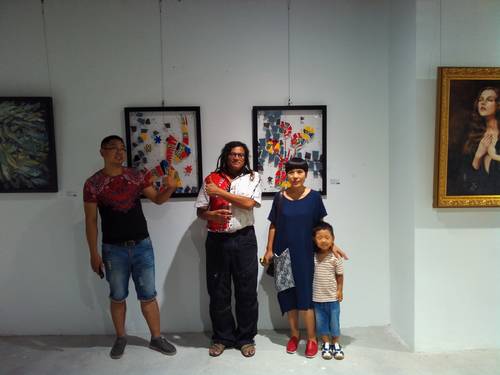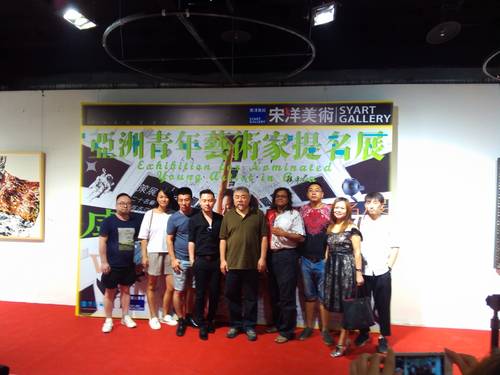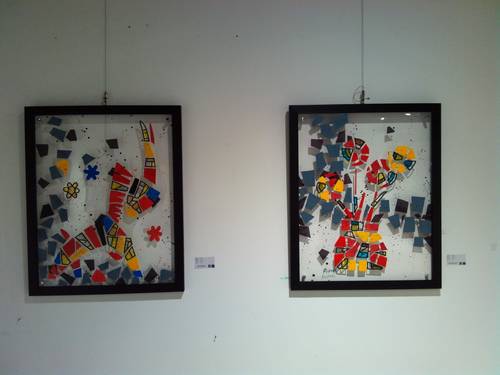 Future shows:
A week after that was the opening for 798 Exclamation gallery show. The opening was very different from the one we had last time. Last time there was a dance show and the Australian embassy was also present. This time it was different and more casual. There was no formal speeches or opening ceremony. However, the show looked very well and everyone seemed to be comfortable. Several curators and media people also show up. The curators liked the show and looks like this event may spawn off a couple of more shows. Here are some shots from the show.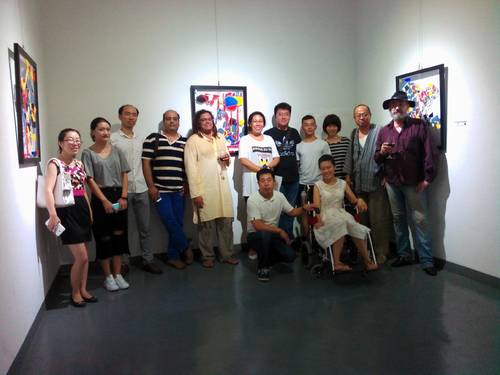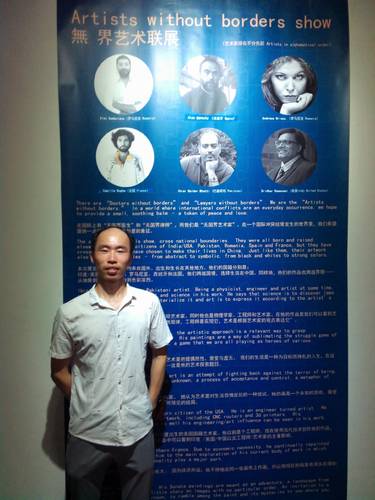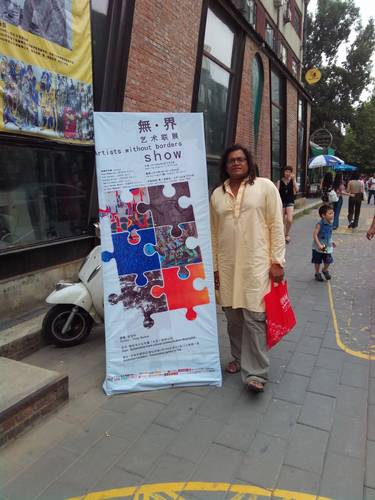 There will be a show in Shuozhou, Shanxi in a week. The show is titiled - Ancient and holy places of Liao and Jin dynasty - oil painting show. Two of my paintings will be included in the show. They are "Rocks, clouds, sun" and "Deer". These are acrylic on canvas works.
There will also be an international show in Xian where artists from about 90 countries will be participating. Its titled - The Third Silk Road International Exhibition. Two of my large paintings "Ribbon dancers" and "Work and Rest" were selected for the show. Below is the poster for this show.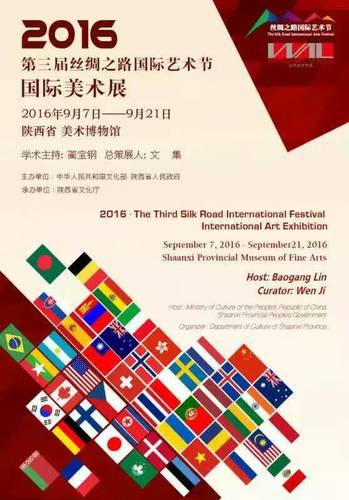 New work:
Here
are three recent Poliyart. You can see them here. The first one is Titled "Woman with Flower 4". I really like the woman with flower theme and am exploring different colors and configurations.
The second one is "Rocks, sun and waterfall". This design is like a cross section of the earth. The rocks appear as though they have sliced through. I find it very playful and interesting.
The third one is "Three thinking friends". This shows three friends standing in line in a thinking pose. Many people on wechat have liked this.
Please leave your thoughts below.
---
Comment:

Good luck from Munich (Germany) for your beautiful show!
Chris Bleicher



Hi Chris, Thank you very much. Miss Munich.
Sridhar



All the very best. Beautiful works as always. Congrats Regards
Tanushree



Hi Tanushuree, Thanks. Will drop you an email soon.
Sridhar



祝你心想事成
吴佳



你好吴佳, 谢谢你了。左近过的好吗?还在北京吗?
雷森明



WOW! I love the new direction you are going with your work Sridhar. Fresh and more refined, yet sill has your signature mark of excellence on it. Good job. You fellow artist from Artexpo New York, Karen
Karen Kohtz



雷森明老朋友,一切都好。谢谢
赵四


2016 July 29: 4 shows and a prize Sometimes things are boring and sometimes things very busy. The last month has been very busy. I have just completed two shows and two are about to open. The first show was in Dezhou, Shandong. My painting "Woman smelling flower" won the third prize :-). The museum is located in a remote village and is a factory converted to a museum.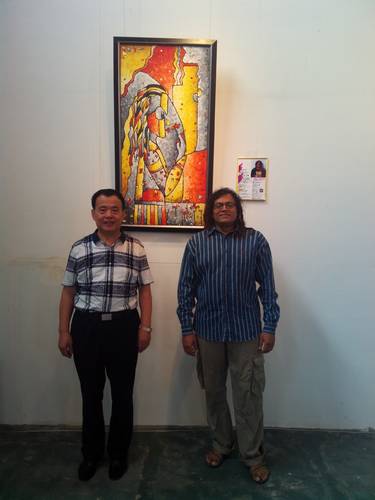 The second show was an experimental show in Shanhai museum, Songzhuang. 26 artists participated in the show. I had three pieces – 'Subconciousness and consciousness', 'An artists trashcan' and 'Lots and lots of people'. All three were installation pieces.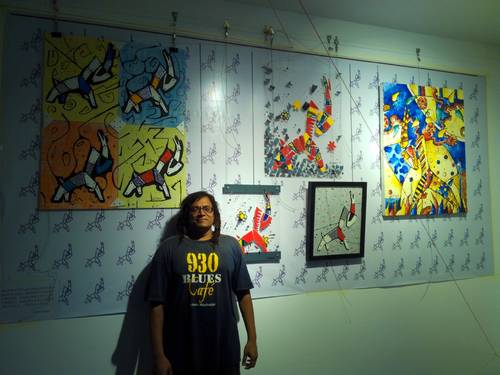 The third show's opening will be on July 30. Its by Songyang gallery and is being held at a very upscale marketplace called IN88 in Beijing. My pieces will be hanging in a place where Prada, Rolex etc are being sold :-) Songyang gallery is run by an enterprising young guy SongYang. Its a small gallery but they create a big buzz. This is a gallery to watch in the future.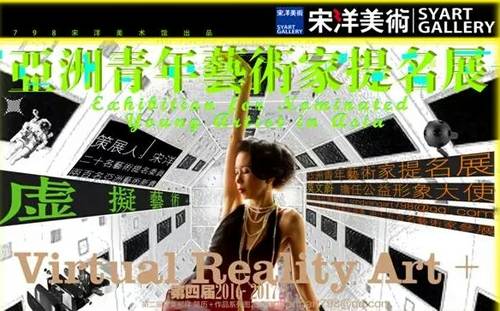 The fourth show's opening will be on August 6. Its in the 798 art district and the gallery is Exclamation gallery. Exclamation gallery is an established gallery and is run by Mr. Zhang who is a well known art collector and dealer. The name of the show is "Artists without Borders". I organized the show and it was quite an experience.
I have also created many new pieces recently. I am happy to say that they have been well received. For the first time in my art career, I am having to turn down exhibitions as I dont have enough artwork.
Here
are the new artwork.
Hope all your wishes come true, rain falls on your rice fields and sun shines on your hay.
---
Comment:

Looking great! Your colors have softened! Is it the effect of having a woman in your life?
Vikram



Hi Vikram, Thanks. I have no idea, if a woman in my life has softened the colors. Technically, I am using more grays to fill the transparent areas and making the artwork more complicated. As a result, the colors look less pronounced. :-)
Sridhar



热烈祝贺雷森明先生出如此优秀作品。中国老朋友赵四为你点赞
赵四



你好赵四老师, 好久不见。来北京的时候肯定和我联系。祝贺你天天快乐!
雷森明



Dear Sridhar: Wow~you had a great art schedule. Wu-Peng also ever Jointed Cross-strait four regions artistic exchange Exhibition at 798 Exclamation Art Space on Feb. this year. Mr. Zhang is a nice teacher, if you see him later, please give my bless to him. Hope you have a successful exhibition at there. Wu-Peng has his own new FB fan page for his art works now and also will has his own website that established by his university NTNU in the future. Last time you got married back to India when we stayed in Beijing, we had no chance to meet together, wish we have another chance to meet in the future too. Take care~
Venus



Hi Venus, What a coincidence - your son also having an exhibition in Exclamation gallery. Mr. Zhang is indeed a great gallery owner and art collector. Looks like your son's art career is doing very well. If you have wechat go ahead and add me.
Sridhar



给我介绍个印度女人做老婆!
张恒久



您好张恒久,好的 :-)
雷森明



祝贺您的画展圆满成功!太棒了!
Judy Zheng



一定的,为您点赞。快乐永伴
赵四


2016 June 22: Getting Married in India
Wow, its been a while and lots and lots of things have happened - both in my personal life as well as in my art career.
The wedding in India was a roller coaster of emotions. The planning started several months before the ceremony. Getting an Indian visa for Lakshmi's (my wife's Indian name) parents was quite an ordeal. The visa office rejected the application for her parents at the first attempt. They became angry and almost decided not to go. But cooler heads prevailed and the application went through in the second attempt.
Culture shock - lots of it. For my Chinese wife and her parents, that is. Seeing only Indians everywhere. Different language, different weather, different customs. It was quite an ordeal for them. They were looking for hot water, while my relatives were wondering why anyone would drink hot water in such hot weather. They were looking for noodles where none was available. They were looking for meat in a place where meat consumption is very low. They wanted to wear slippers inside the homes, where its culturally not allowed. So, they found the marble floors cold and hard. Different toilets ....
I was stuck in the middle and had my hands full.
The first few days after we landed, was very hectic. We had to travel to numerous nearby towns to distribute wedding invitations. This was also the first time Lakshmi and I had spent so much time together. We found out each others quirks and eccentricities. If Lakshmi does not get food at the right time, she goes crazy. She needs certain kinds of foods. She needs a certain amount of rest. While dating, we had never quarreled. But as soon as we got to India, the quarelling started.
They say traveling for a long time for a new couple is a very stressful situation. They are right.
After the invitations, the prepartions for the wedding started. They installed a tent, called a Pandal in front of our house. Two banana trees were tied on each side of the main door. There were colorful electric lights on the tent. Then the bride had her hand decorated with Henna.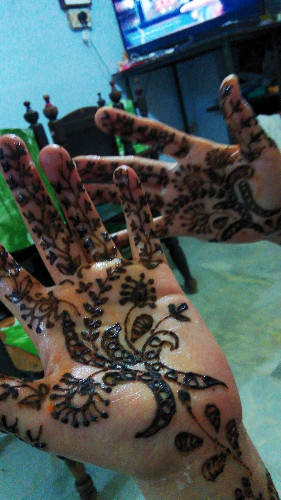 The wedding lasted three days. The first day was the engagement. The second day was the wedding ceremony and the third day was the final wedding feast.
The engagement consisted of the bride and groom clothes being blessed by a Brahmin priest. Then we changed into the clothes and exchanged rings.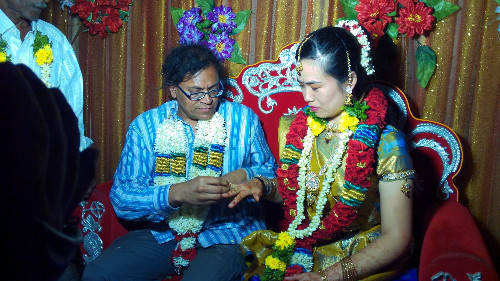 Guests then blessed us by applying Thiruneer (white ash) on our foreheads.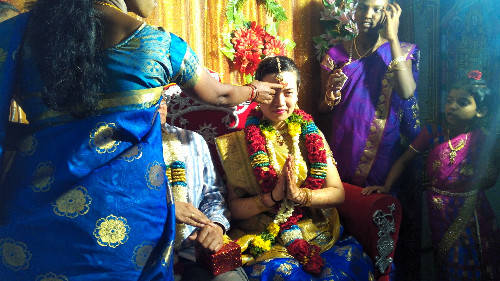 Three of my university mates had come from other cities. I was very happy that they could make it and am very grateful to them. Here they are (from left) Ramesh, Arun and Robby.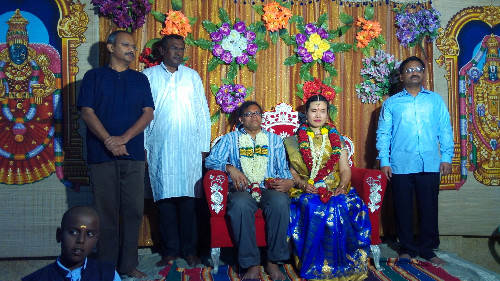 Photo with the brides parents
About 40 relatives had come from nearby towns and spent all three days with us. Other relatives and friends came mostly for the wedding ceremony.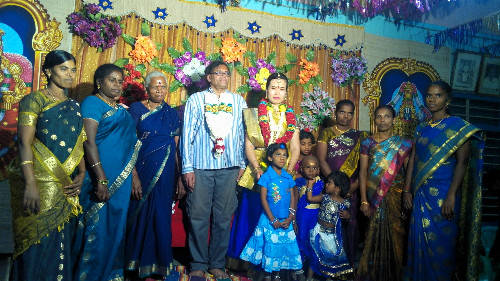 On the wedding day, the bride and groom's dresses were blessed by a Brahmin priest. I was wearing a traditional silk Vetti and silk shirt with a silk towel thrown over one shoulder. The bride was wearing a traditional silk Sari with her hair decorated with flowers.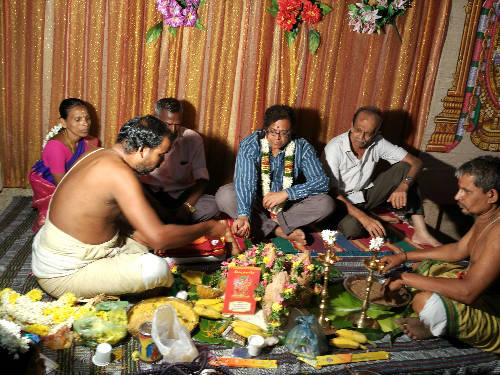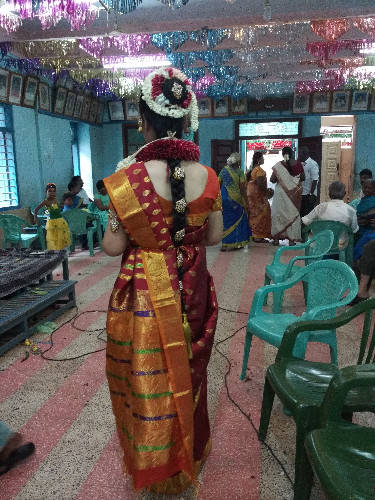 Because it was an international wedding, some customs had to modified. This was done mostly under the advice of the Brahmin priest. Traditionally, the groom and the bride each book a marriage hall. Then, during the wedding day the groom's party has a procession that goes to the bride's hall. However, as the bride's side only had 3 people (bride and parents) this was not possible. So, the procession was modified to me going to a nearby temple with some close relatives, praying at the temple and then returning to the marriage hall. Here is a photo of me going to the temple.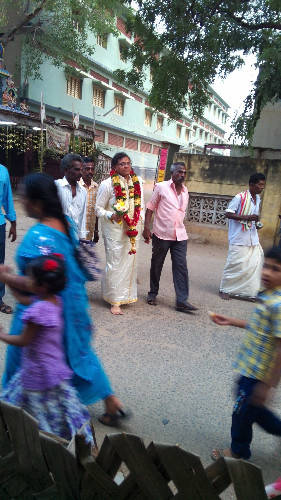 The groom is then welcomed at the bride's wedding hall. One of the customs is that a banana is held near the groom. The groom takes a bite. Again, the banana is held. Again, the groom takes a bite. Then, the third time as the groom is about to take a bite, the holder withdraws the banana and everyone has a good laugh. This goes on for about 15 times. The bride is also given a banana, but she is not teased as much :-)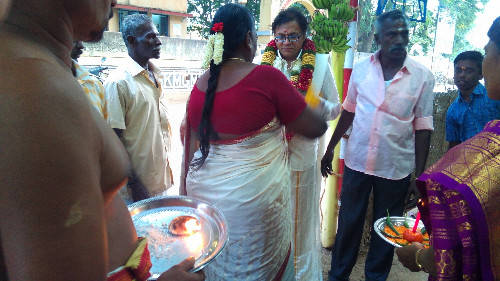 The groom then meets the bride.
The ceremony is done on a low stage. Everyone sits down Indian style. The altar has lots of fruits, flowers and ceremonial lamps and such. There is also a small fire.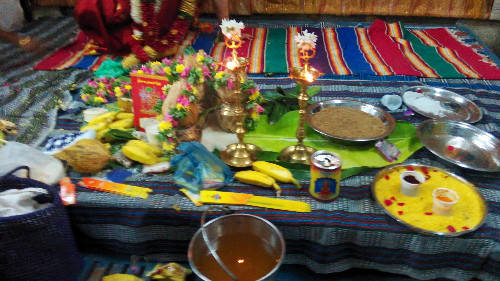 The fathers pay their respects to each other by applying Thiruneer (holy ash) to each others foreheads. They then exchange garlands.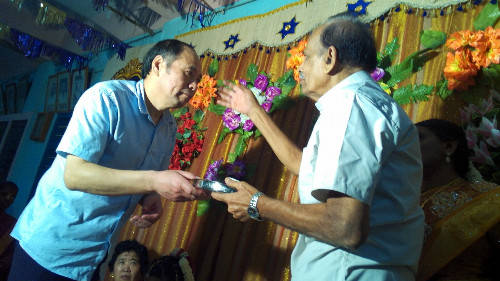 Then, the mothers do the same thing.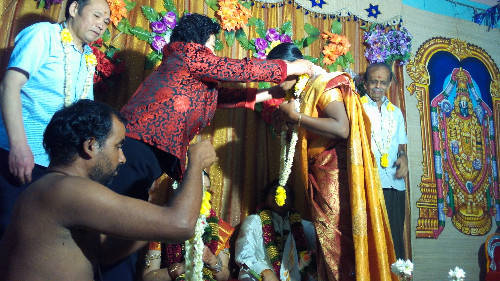 They all sit down and place their hands together. So, the hands of the groom, bride, brides parents and grooms parents are placed together. Its a squeeze! The Brahmin priest recites his mantras and offers prayers to the gods. Ceremonial water, milk and rice are also poured on the hands.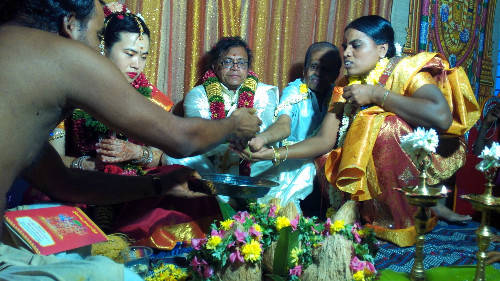 Then, the bride lights a traditional oil lamp. By custom, before the advent of electricity, it was the lady of the house who would light the lamps in the evenings. The ceremony symbolizes this. Perhaps, a modern adaption could be the bride turning on the light switch :-)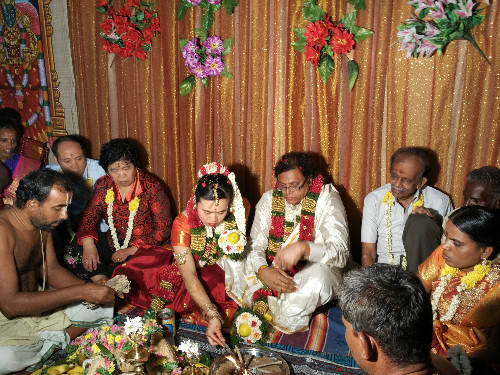 Traditional south Indian music is played in the background by musicians. Then the groom ties the gold Thali (necklace) around the bride's neck. This symbolizes the actual wedding. Thali, is the most important symbol for south Indian weddings. Most women never remove it for the rest of their lives.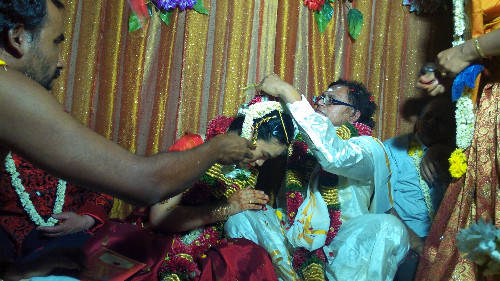 The bride and groom, then exchange garlands several times.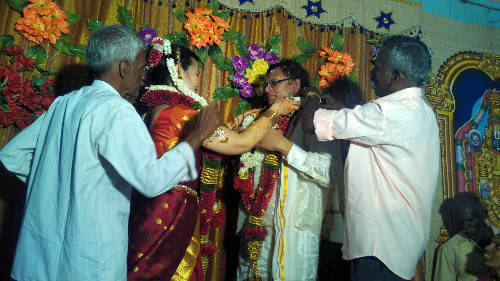 One of the close relatives from the grooms side then puts Vitti (toe rings) on the bride's feet. I was told that many years ago, even men used to wear them.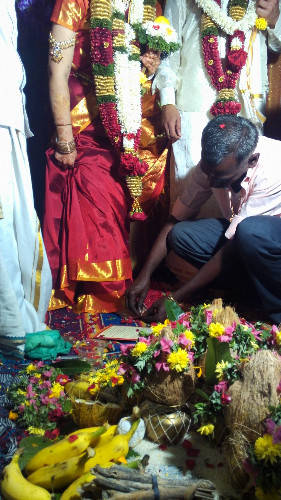 Then an end of the groom's dress is tied to the end of the bride's Sari and the couple circle the holy fire a few times. This concludes the ceremony.
Then, its time for the group photos.
The gentleman on the right is one of our close relatives, who did a large amount of legwork. There are a few people who are social leaders and can make things happen. He is one of them. He worked tirelessly. A big thanks to him!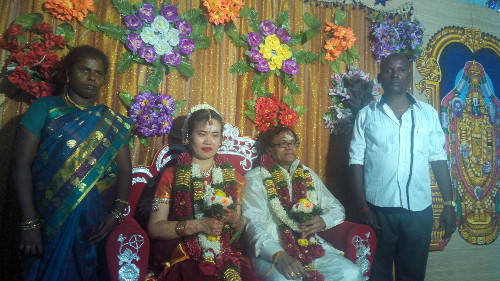 The third day was the wedding feast. Before the wedding, for almost two weeks, we could not eat any meat at home. So, my wife and her parents, who eat meat regularly really missed it. The wedding feast was heavily non-vegetarian.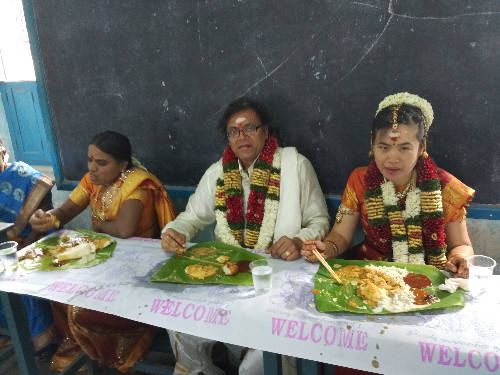 The wedding news was published in the local papers along with a photo. Being such a small town, anytime we went for a walk after that, many people on the streets recognized us :-)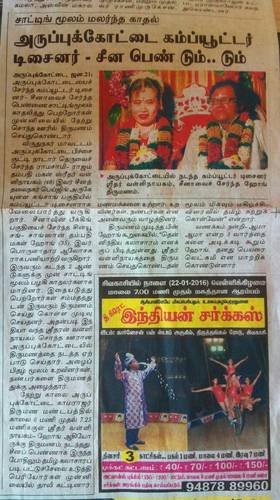 Writing this after 5 months of the wedding brings back memories. I now realize that things were so hectic, that I was in a trance. It was very intense. It was also a great occasion to meet relatives that I had not met in over 30 years. Meeting them brought to memory the deaths, births and wedings that have occured over the years. How time flows!!
---
Comment:

Congratulations to the happy couple!
Vikram



Hi Vikram, Thank you very much.
Sridhar



May you both have a long and happy life together!
AYCE



Hi AYCE, Thank you and Happy Trails!!
Sridhar



Sridhar and Qin Hong: We were wondering about the long honeymoon (since Jan)!! Best wishes from all. Great story and pics :)
Vikas and Sangita



Really wonderful account of your wedding! Both of you looked awesome in those traditional clothes. Wish both of you loads of happiness and joy together. Stay blessed.
Tanushree



祝福你们新婚快乐白头偕老
吴佳



my dear teacher sam,best wishes for you and your wife.so sorry i haven't contacted you for a long time. so happy to get your wedding news,please add my weixin
jocie



Hi Thank you for sharing such an important and joyess event. Congratulation's to you both have a long and happy life together.
Annie Burgamy



Congrats and best wishes for happy married life
Selvanayagam



祝福你们!真是个有意义而又非凡的婚礼!
Sarah



Hi Vikas and Sangita, We stayed in India for about two months and traveled in SriLanka for 10 days. We traveled a lot.
Sridhar



Hi Jocie, Thanks. I have accepted you wechat.
Sridhar



Hi Tanushreee, Thank you very much. How did your exhibition in Gurgaon go?
Sridhar



你好吴佳, 谢谢你了。最近都好吗?
雷森明



Hi Annie, Thank you very much :-)
Sridhar



Hello Selvanayagam, Thank you very much.
Sridhar



你好Sarah, 谢谢你了。北京到的时候给我打电话,我们可以见。
雷森明



Dear Sridhar, You both look wonderful! It's a really beautiful wedding! I wish you LOVE and HAPPINESS! Chris from Munich, Germany
Chris Bleicher



Hi Chris, Thank you very much. Miss Munich!!
Sridhar



Congratulations,my english teacher,MR. LEI. Happy everyday.
YONGJUN LIU



再次祝福,
毛新国



Hi YongJunLiu, Thank you very much. What are you doing nowadays and where?
Sridhar



你好毛新国,谢谢你了。
雷森明



What a wonderful experience and wedding! Congratulations.
Martha



Hi Martha, Thank you. How did your visit to Tokyo go?
Sridhar



Congrats!
Michael



祝福你们新婚快乐,地久天长。
王洪升



congratulations~
crystal su



Hi Michael, Thanks. Looks like in the past few years, many of the Hexi gang has gotten married :-)
Sridhar



您好王洪升, 谢谢您了。
雷森明



Hi Crystal, Are you the same Crystal I met a few years back. You then moved to Shanghai? Let me know what you are up to.
Sridhar



Congratulations on your marriage! Forever happy! from Japan,
Rie Miyashita



祝你们新婚快乐,白头偕老!永远幸福甜蜜!
戴小芳



Hi Rie, Thanks for dropping by. There were a group of Japanese artists in Beijing last weekend. They were from the Tokyo University. Hope all is well with you.
Sridhar



您好戴小芳, 谢谢您了 :-)
雷森明



你好朋友! 真诚祝福你新婚快乐,白头到老,幸福一生!新娘很漂亮,婚俗很有趣! 你还在宋庄吗?何时回中国?
李 建林



Congratulations!
杨单锋



您好李建林, 谢谢您了!
雷森明



您好杨单锋老师, 谢谢您了。
雷森明



Congratulations, Sridhar and Lakshmi ! Best wishes for ypur future together. Thank you for sharing! Beth
Beth



Hi Beth, Thanks much :-)
Sridhar



看到您的印度婚礼,人生存放在这个花花世界中,平安健康足也。祝福您鸡年吉祥
赵四